Regular price
$18.00 USD
Sale price
$10.00 USD
Unit price
per
Sale
Sold out
Note:
In order to provide you with the best price and minimize the transportation cost for each package, there are no packaging boxes for disposable three-layer masks less than 4 boxes, only sealed plastic packaging, please understand more. If you mind, please think before buying.
Please Follow our Ebay store , you will get newest Price and Promotion and New Products very soon
Please click
Please save this product or follow our store, you will get the newest information.
Real Inventory in USA!!!✔️ CALIFORNIA✔️ New York✔️ Texas✔️ Delaware STOCK
Shop more and save more!
[50 PCS] Face Mask Disposable Non Medical Surgical 3-Ply Earloop Mouth Cover0
keep some inventory ,Protect you and your family!!
400000 Pcs Inventory located In California(Western) and Delaware(Eastern) Warehouse!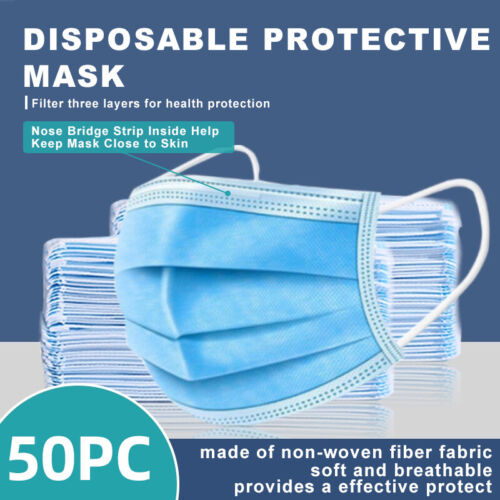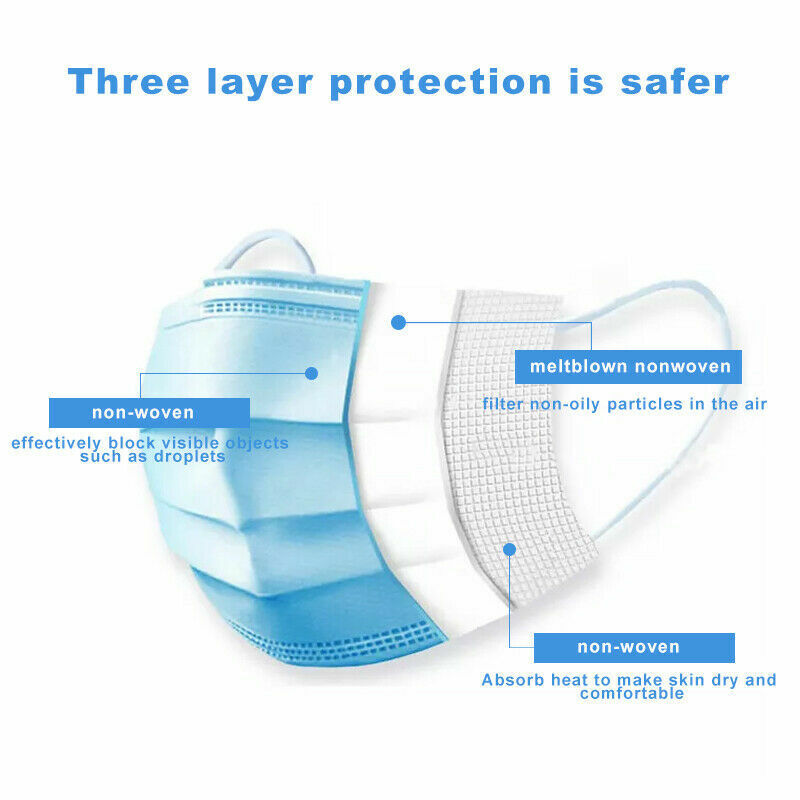 Product Description
This pack contains 50 disposable face masks (face coverings) made from three layers of skin-friendly Non-Woven fabric to cover the mouth and nose. They feature an elasticated ear loop fastening for optimal comfort and an adjustable nose bridge for best fit.
Features:
Elastic Ear Loop


Nose Bridge Strip Inside Help Keep Mask Close to Skin

3-Layers of Non-Woven Fiber Fabric to Provide Fine Filtration and Maximum Breathability

Adjustable Twig Bridge of Nose is more suitable for all face shapes.

High elastic flat ear strap, does not strain the ears.

Protect Anyone from Dust, Allergens, Virus, and Air Pollution

Comfortable to Wear for Hours and Maximize the Protection at the Same Time

One size fits all, for adult use.
Specifications:
Size: 17.5 x 9.5cm/6.89 x 3.74"(Approx).

Color: Blue

Quantity: 50 pcs

Material: Non-woven
How to use:
1) Wash your hands with soap and water before touching the mask
2) Take out the mask with the white side facing inward and the blue side facing outward and check there are no tears or holes
3) Align the face mask with the mouth and nose, with the nose clip upwards, and press the nose clip gently until it fits comfortably.
4) Place an ear loop around one ear first, and then the other or tie the ear loops behind the head to a comfortable position.
5) Adjust the face mask to cover only the lower part of the nose, along with the mouth and chin to provide a better protective fit.
6) Clean your hands again and refrain from touching the mask once it's fitted to your face
7) After use, dispose of the mask immediately in household waste and wash your hands again.
Please note:
Face masks should not be used in place of social distancing and hand washing, or in place of self-isolation.
Each mask should only be used once and immediately disposed of with your household waste after use.
This Standard Specifies the terms and definitions, technical requirements,test methods,inspection rules,packaging,Storage and transportation requirements of daily protective masks.This Standard applies to protective masks wore in the daily life to filter out particulate matters in the air pollution environment. This Standard does not apply to respiratory protection products used in hypoxic environment,underwater operations,escaping,fire protection,medical and industrial dust prevention and other special industries,nor for respiratory protection products for infants and children.The particle protective performance of mask is divided from high to low into Grade A, Grade B, Grade C and Grade D ,Respirators of all levels can reduce the concentration of inhaled particulate matter (PM2s) to S 75ug /m3 in the corresponding air pollution environment.
Box packaging may vary depending on shipments. Please be advised that mask order might be with or without box. 10PCS a pack or50 a pack,But all the face masks are the same product and quality and they will all have 50 pieces
Return Policy: We only accept return for unopened item. Up to 50% restocking fee for returned PPE such as disposable gloves, face masks, face shield, mask filters,etc.
If you are looking for wholesale or want to buy face masks in bulk, please click the following links
| | | | | |
| --- | --- | --- | --- | --- |
| PCs/Type | Black KN95 | White KN95 | Black KF94 | White KF94 |
| 50 Pcs | (0.30$/Pc) | (0.297$/Pc) | (0.24$/Pc) | (0.24$/Pc) |
| 100 Pcs | (0.29$/Pc) | (0.278$/Pc) | (0.19$/Pc) | (0.19$/Pc) |
| 1000 Pcs | 0.16$/Pc) | (0.16$/Pc) | (0.103$/Pc) | (0.10$/Pc) |
| 2000 Pcs | 0.155$/Pc) | (0.155$/Pc) | (0.10$/Pc) | (0.10$/Pc) |
| 2500 Pcs | / | / | (0.098$/Pc) | (0.098$/Pc) |
| 3000 Pcs | (0.15$/Pc) | (0.15$/Pc) | (0.097$/Pc) | (0.097$/Pc) |
| 4000 Pcs | (0.145$/Pc) | (0.145$/Pc) | (0.096$/Pc) | (0.096$/Pc) |
| 5000 Pcs | (0.14$/Pc) | (0.14$/Pc) | (0.095$/Pc) | (0.095$/Pc) |
| 6000 Pcs | (0.135$/Pc) | (0.135$/Pc) | / | / |
| 15000 Pcs | (0.13$/Pc) | (0.13$/Pc) | / | / |
| 30000 Pcs | (0.125$/Pc) | (0.125$/Pc) | / | / |
| | | | |
| --- | --- | --- | --- |
| | Adults black mask | Adults blue mask | Kids black mask |
| PCS/Type | | | |
| 50 Pcs | (0.127$/Pc) | (0.113$/Pc) | (0.179$/Pc) |
| 100 Pcs | (0.084$/Pc) | (0.089$/Pc) | (0.158$/Pc) |
| 1000 Pcs | (0.079$/Pc) | (0.059$/Pc) | (0.087$/Pc) |
| 2000 Pcs | (0.074$/Pc) | (0.054$/Pc) | (0.071$/Pc) |
| 3000 Pcs | (0.069$/Pc) | (0.049$/Pc) | (0.066$/Pc) |
| 4000 Pcs | (0.064$/Pc) | (0.044$/Pc) | (0.061$/Pc) |
| 5000 Pcs | (0.059$/Pc) | (0.039$/Pc) | (0.056$/Pc) |
Share
View full details